We are here to answer any questions you may have about our French holiday accommodation. Please feel free to contact us:
Elizabeth and John ALLSOPP
1 lieu dit La Guillotière,
79290, CERSAY
Deux-Sèvres
Tel France: +33 (0)7 67 28 70 22
Tel UK: +44 (0)7450 389157
Please use the form below to send us an email.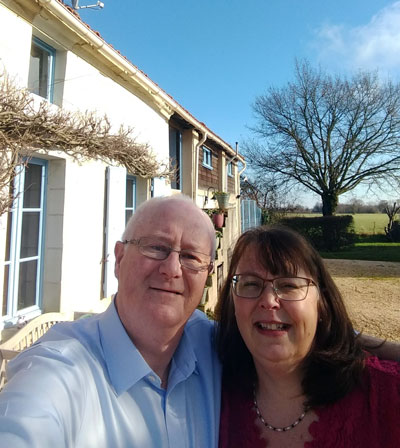 ROSE BARN

Weekly £

ROSE BARN

Nightly £

LAVENDER HOUSE

Weekly £

LAVENDER HOUSE

Nightly £

3rd January – 3rd February
500
75
535
80
4th February – 5th March
535
80
565
85
6th March – 7th April
500
75
535
80
8th April – 7th July
600
90
565
85
8th July – 31st August
765
115
635
95
1st September – 29th September
600
90
565
85
30th September – 20th October
500
75
535
80
21st October – 5th November
535
80
565
85
6th November – 21st December
500
75
535
80
22nd December – 3rd January 2023
700
105
700
105
ROSE BARN

Weekly £

ROSE BARN

Nightly £

LAVENDER HOUSE

Weekly £

LAVENDER HOUSE

Nightly £

7th January – 15th February
535
80
565
85
16th February – 10th March
565
85
600
90
11th March – 11th April
535
80
565
85
12th April – 16th May
565
85
600
90
17th May – 4th July
735
110
565
85
5th July – 1st September
930
140
600
90
2nd September – 30th September
735
110
565
85
1st October – 17th October
535
80
565
85
18th October – 19th December
565
85
600
90
20th December – 5th January 2025
735
110
865
130
Our prices include all bed linen and towels (including pool towels), power and a welcome tray with a bottle of local fizz. For stays of 7 days or more a breakfast hamper is provided. If your stay is less than 7 days this can be supplied for a small additional cost.
Additional costs are the Tourist Tax (maximum of 1.50€ per person per night) and refundable damage / cleaning deposit of 150€ or GBP. Weekly prices include a 5% discount. Last minute special offers may be available, please contact us.


Summary of Booking Terms and Conditions
Once availability and prices have been confirmed, a booking form will be sent out and the dates held for 7 days.
The properties are priced in pounds (£ GBP) and euros, and both euros (€) and pounds (£ GBP) are accepted. The GBP price may change dependant on the exchange rate.
A non-refundable deposit of 25% of the cost of the holiday is required with payment via bank transfer where the booking is more than 8 weeks away. For bookings within the 8 weeks of arrival the full amount is payable. The deposit for short breaks will be agreed at the time of booking.
Cancellations. All cancellations must be immediately notified by telephone and then in writing. If you cancel your holiday more than 6 weeks before it is due to start then your deposit will be forfeit. If you cancel less than 6 weeks prior to the holiday then the full balance remains due and is not refundable.
We strongly advise that you take out comprehensive travel insurance. If you choose not to, then you accept responsibility for any loss that you may incur due to your cancellation.
If you cancel your booking and we are able to re let the property then the monies paid will be refunded. The amount will be dependent on the number of days re let and amount received. If you do need to cancel, we will always try and fit you in on an alternative date.
Additional costs – a damage deposit of 150 € or GBP is required on arrival. This will be refunded within 14 days of departure. All visitors are required to pay a Tourist tax which is passed on to the local authority. The amount depends on the number of people and holiday cost but is approximately 1.50€ per person per night.
Bookings normally commence at 1600 hours unless otherwise agreed and guests are required to vacate the property by 1100 hours on the day of departure. This allows the accommodation to be thoroughly cleaned and prepared for incoming guests.
To book or check availability, please call us on + 44 (0)7450 389157 or + 33 (0)7 67 28 70 22, or complete the short Booking Enquiry Form below.

Contact / Booking Enquiry Form
The personal information you have provided here will allow us to respond to your contact and will be stored by us should further contact concerning the original enquiry be required. It will not be sold or shared to any third party. You are free to opt-out at any time, please contact us should you wish to do this.  Read our Privacy Polic here.